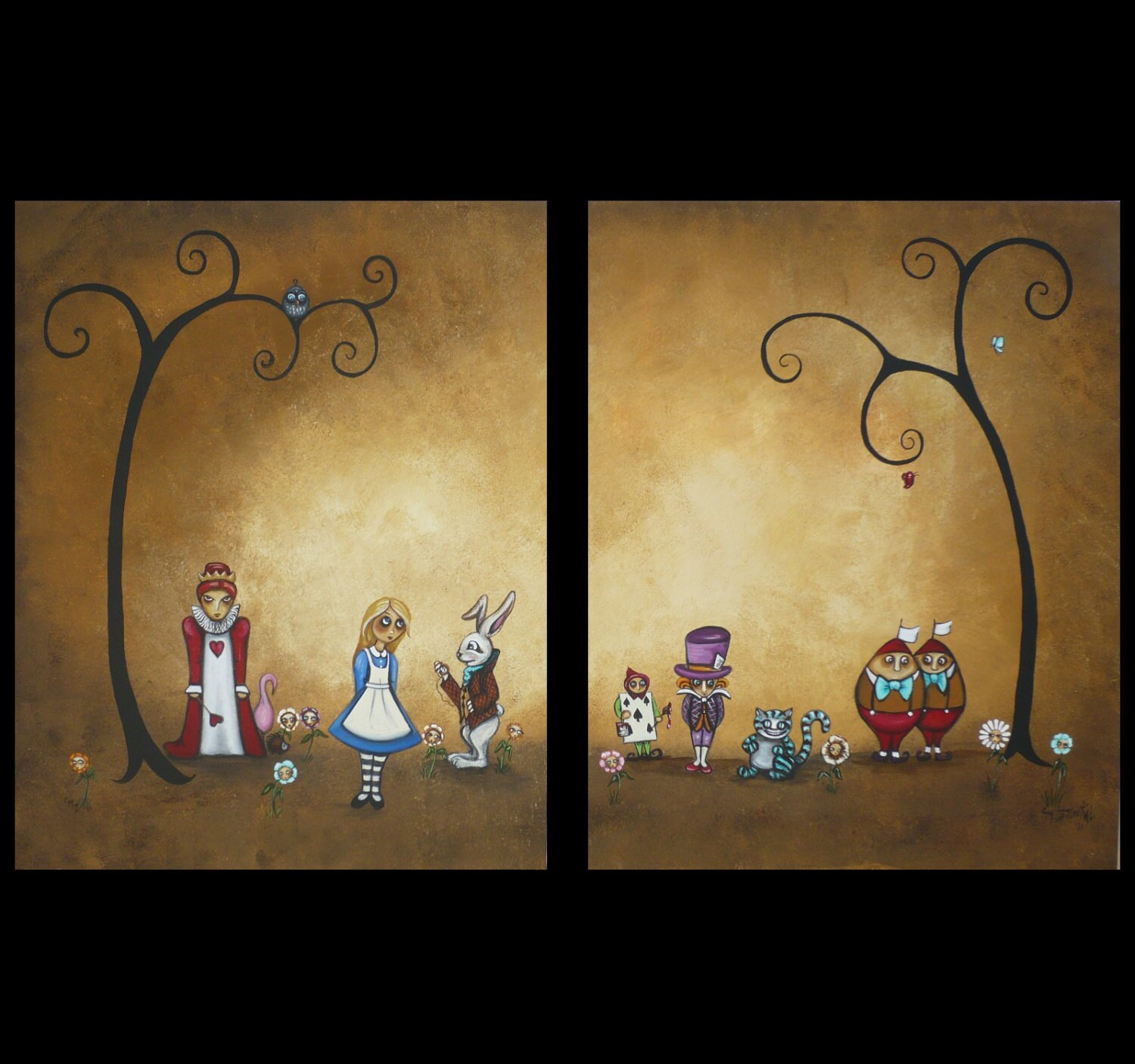 I've made some decisions on what I will be carrying in my
I will keep my two panel,
Alice in Wonderland -
Encore
painting..
most of my tree paintings and bird paintings.
Most everything else is already in my
and will be offered for only a little while longer.
I won't be painting as many character paintings,
again...the vision thing...but I will expand my painting line
significantly.
I'll just be doing a lot more 'experimental'...to me anyway...paintings.
Hopefully these will sell fast enough that my storage space...
or the lack of it...
doesn't become a problem for me.
I'll be 'retiring' a lot of prints in the New Year,
I just haven't completely decided which ones yet.
I will be combining the 5" x 7" and 8" x 10" prints
into one section called,
Small Prints
and expanding my line of Large Limited Edition prints.

Calendars will be available until right after
the New Year.
The art covers will be discontinued in just a few days
and I won't be offering them in the future.
They just take too much time...
and like the wearable art, with my vision,
I just can't work on these small pieces anymore.
My daughter, Wendy, has agreed to take over
my wearable art line...and Jaime's..
and offer them in our 'partnership' Etsy Shop..

Wendy has a full time job as contact center manager
for a major insurance company...and a family...
so she doesn't have a lot of free time...
but she has helped so often in the past, that we talked
and decided it was time she actually got something for her efforts.
She was willing to do them for us to offer in our own shops,
but
we decided that this would give the 'Boutique' a bit
of the 'jump start' that it needs (hopefully)
and give her a little something extra...
with three kids
she needs that extra all too often!
I'm hoping to have some of the wearable art listed in her shop
by the end of the week-end.
So...in the New Year...
my Rustic Goth Etsy Shop
will be devoted primarily to new style paintings
and select prints.